Ballarat Regional Directors
We are delighted to announce, replacing Debbie Marshall in the role of Ballarat Regional Director will be two local stalwarts
LORETTA KAVAL & RUTH OPPENHEIM
Both have a long history with this Regional Branch and to quote Debbie, "I know they have the skills, passion and desire to truly engage the Ballarat community with the best in Australian children's literature."
2022 CBCA Ballarat Sub-Branch
Judges' Talk
2022 CBCA Ballarat Judges' Talk
Tickets via
Members $25.00 per person
Non Members $30.00 per person
Join Loretta & Ruth on
Saturday, August 6, 2022
from 9:30 a.m. to 3:00 p.m.
@ Campion Education Ballarat
5 Yarrowee Street, Sebastopol
Arrive at 9:30 a.m. for morning tea
Judges' Talk will start at 10:00 a.m., featuring the Shortlist from the Early Childhood, Younger Readers & Eve Pownall Award categories.
Stay for a delicious lunch
Enjoy further discussion on the Shortlisted Picture Books & Older Readers for this year

Message from Loretta & Ruth
Short on time, but eager to know more about this year's Shortlisted Books?
Go to our Facebook Page - They are all there!
Scroll through the books and add your comments.
Loretta Kaval has recently retired as Head of Library (Damascus College).
She has been
one of our Clayton's judges at Ballarat on many occasions and across all the different categories
the instigator behind our Bibliotherapy meetings group, and
helped out enthusiastically on numerous other local events.
Loretta is an avid reader of all literature, has a maths/science teaching background as well as interests in public speaking and debating.
Ruth Oppenheim has worked for many years at the local educational book store (formerly known as Ballarat Books, now part of the Campion Press organisation).
She has
enthusiastically shared her wealth of knowledge about children's literature as she visited schools throughout the region
been one of our Clayton's judges at Ballarat on many occasions and across many different categories, as well as a judge at Melbourne's Clayton's Night
Her workplace has proudly supported Ballarat CBCA events for a very long time and CBCA VIC Branch thanks them for their support.
The Ballarat "COVID" Clayton's Night
On a chilly Ballarat evening, our first CBCA function was held since COVID-19 first reared its ugly head. It is always challenging to get people to come out at night in Ballarat's winter. Nearly 30 teachers, librarians and interested reading enthusiasts braved the weather.
Everything was planned with public health and current restrictions in mind. Instead of a dinner, the start time was 7.30pm and attendees were served individually wrapped snacks, sparkling wine, tea, coffee and separate treats throughout the evening.
Thanks to Dianne Woodhouse of Campion Education Ballarat, who kindly gave us their showroom and facilities for the evening. Without their support, the evening would not have been made possible.
Each of our valiant judges was asked to pick their 5 favourites from the 2021 CBCA Shortlist in their category. Our primary motivation was just to keep the discussion of all our wonderful Australian children's books open and ongoing.
Early Childhood - Julie Bull, Children's and Youth Librarian for the City of Ballarat
Younger Readers - Gwen McMullin, Learning Resources Manager for the Junior Library at Ballarat Grammar.
Picture Books - Michelle Thomason, Librarian at Ballarat and Clarendon College.
Older Readers - Loretta Kaval, former Head of Resource Centre, Damascus College and now retired and Co Regional Director of the Central Highlands CBCA
Eve Pownall Award - Ruth Oppenheim recently retired from Ballarat Books.
Guest Judges spoke for 15 minutes, followed by a Q & A with the audience. This proved to be a popular innovation and the discussion was spirited. It threw up lots of new ideas and approaches to the shortlisted books. We are considering making it a permanent feature of our Clayton's night.
Ruth Oppenheim & Julie Bull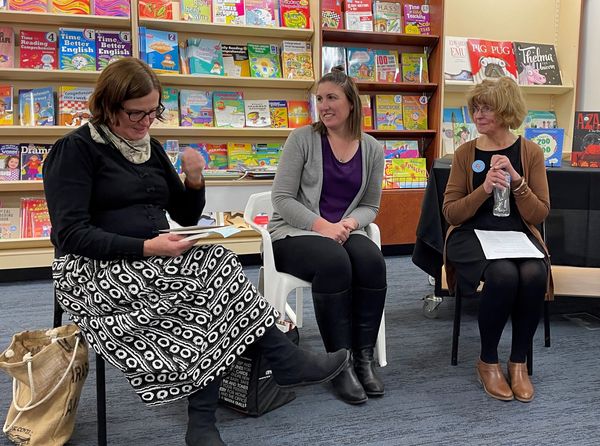 Q & A with Gwen McMillan, Michelle Thomason & Ruth Oppenheim
Loretta Kaval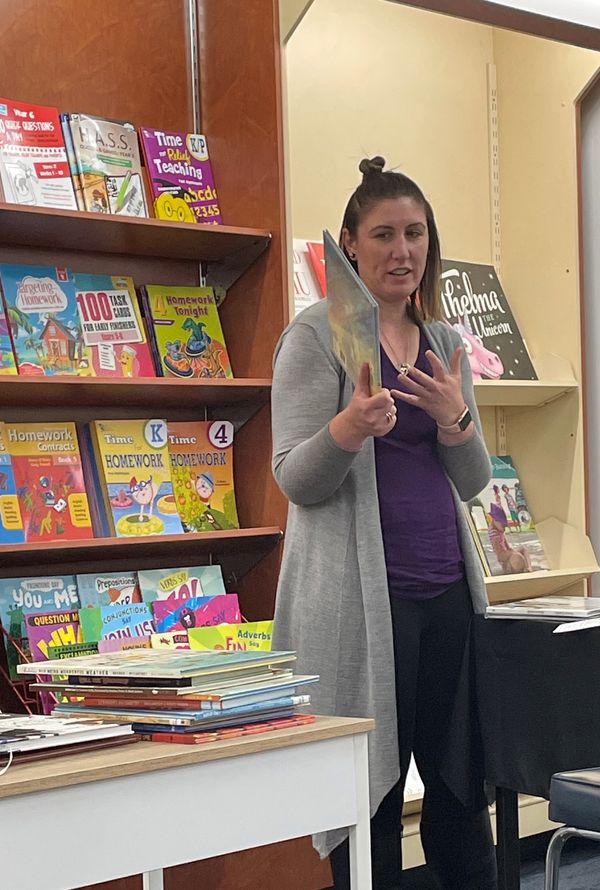 Michelle Thomason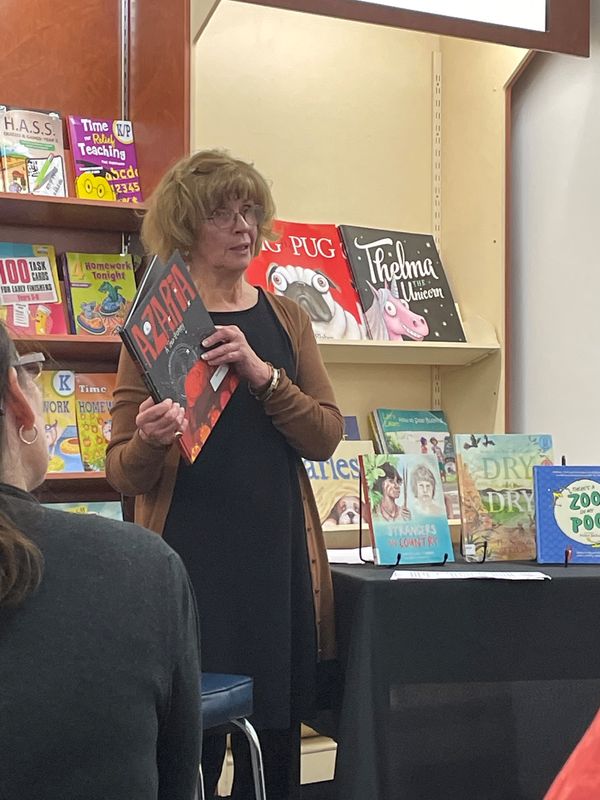 Ruth Oppenheim
2020 - COVID-19 interupted year, no events
2019 CBCA Ballarat Judges' Talk
Once again, CBCA Vic Members and non-members heard from three of the Victorian 2019 CBCA BOTY Awards Judges
Mandy Cooper (Early Childhood), from Gallery for a Day

Jo Panckridge (Picture Books), Teacher Librarian

Brook Tayla (Eve Pownall Award), Librarian & Children's Literature Review Blogger