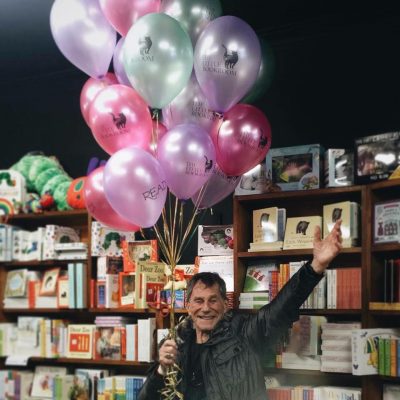 Albert Ullin
Born Frankfurt, Germany in 1930, Died in Melbourne, September 2018, aged 88.
Moved to Australia in 1939 before the outbreak of World War II and became a bookseller at Robertson & Mullens, where he developed an interest in children's books.
Aged 30, he opened The Little Bookroom, the first Australian bookstore dedicated to children's books and named after Eleanor Farjeon's book of modern fairy tales.
Whilst working at the bookstore, Albert built one of Australia's largest collections of children's picture book art, which he donated to the National Gallery of Victoria in 2015.
Awarded a Medal of the Order of Australia (OAM) in 1997 in for 'service to the promotion of children's literature in Australia and overseas';
Awarded the Dromkeen Medal in 1986 for 'outstanding achievement in the creation of Australian children's and young adult literature';
Presented with a lifetime achievement award in 2009, from the Australian Booksellers Association;
Received CBCA VIC Branch's Leila St John Award in 2010, for services to children's literature in Victoria.
2022 Winner
Jane Tanner
Announced on Sunday, October 16
Before his death in 2018, Albert left a legacy for a national award to be called the 'Albert Ullin Award'.
To be awarded in recognition of a body of work by an author or illustrator of children's books who has made a significant contribution to children's literature in Australia, but who may not have received due recognition.
The Albert Ullin Award is to be a biennial award, ensuring that Albert's legacy will endure for many years to come.
The recipient will receive a framed certificate together with a monetary prize to the value of $10,000.
As 2022 is also the 62nd anniversary of the Little Bookroom, and because Albert would have turned 92 this year, we feel that the time is right for this award to be conferred.
Albert requested that the award fund be administered by the Victorian Branch of CBCA and that Pamela Horsey and Helen Chamberlin, together with his literary executor Alison Sayers, manage the inaugural award, as well as another person from the industry with long-term experience in the children's book industry.
Kathy Kozlowski was enlisted, as she had worked with Albert at the Little Bookroom in its early years and has had a long and distinguished career as a children's bookseller and buyer at Readings.