MELBOURNE JUDGES' TALK – TUESDAY 28 MAY 2019
Held at SLAV Headquarters, The Dream Factory, Level 2, 90-96 Maribyrnong Street, Footscray .
Presentations from our Victorian based CBCA Book of the Year Judges about their award categories and the judging process.
Mandy Cooper
Jo Panckridge
Brook Tayla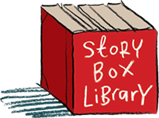 Story Box Library presented a reading of "Sorry Day" by Carol Vass
Plus, attendees were given Teachers' Notes - Classroom Ideas for "Sorry Day", "Grandma Z" and "Chalk Boy"
2019 Merchandise was on display and available for purchase!
Purchase orders accepted and credit card facilities available.
CBCA Vic Members also attended CBCA Vic's Annual General Meeting the same evening.
The following members were elected to the committee:-

PRESIDENT - Karys McEwen
VICE PRESIDENT - Christine Oughtred
VICE PRESIDENT - Ngaire Brown
SECRETARY - Geraldine Woolnough
TREASURER - Marissa Caluzzi
GENERAL COMMITTEE

Robyn Burke
Kylie Long
Sarah Mayor Cox
Diem Nguyen
Michelle Nye (Hillcrest Christian College)
Jane Parsons
Ruth Woolven (Kew Primary School)
Annette Wright