Report on 2018 Victorian State Conference - Geelong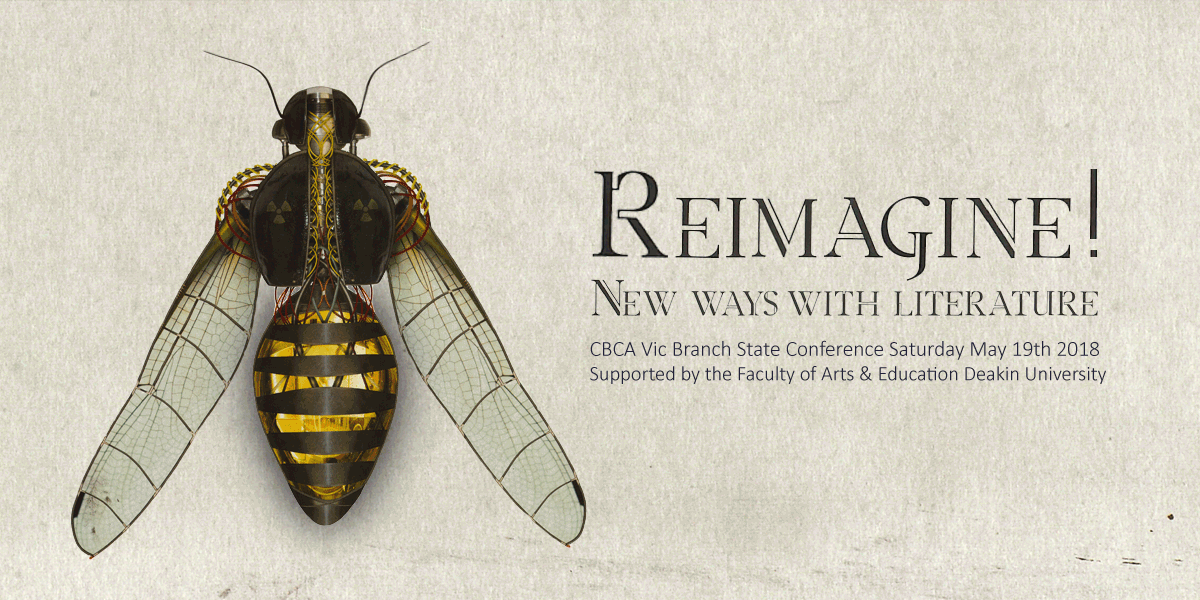 Original artwork by Lance Balchin - animation by Sarah Fennelly, Deakin University Library
REIMAGINE!
New Ways With Literature
What a happy weekend it was, being together at Geelong on May 19th and 20th to reimagine, learn, and create new ways with literature.

The conference day was launched with a keynote by Australian Children's Laureate Morris Gleitzman who struck a perfect 'note' as he described children's literature as looking forward and forward moving. Stories, said Gleitzman, are at the centre of our human discourse. He said stories themselves haven't changed but the human conversation around them can be broken. We have a habit of only going surface deep and skating across each other's surfaces but the real action, feelings and full connection come from going beneath the surface. In a novel this requires a problem which piques our curiosity and in the solving of this problem we have the opportunity to develop interpersonal skills and empathy. Despite the often challenging background to his stories Gleitzman ensures his characters are "not worse off at the end of the story inside themselves". It was a great start to the day.
Associate Professor Dr Louise Paatsch from Deakin University then gave thoughtful context to Literature as a strand of the National Curriculum for English. Based on her research with Primary Teachers, Louise unpacked not only the opportunity but the responsibility we have in responding to that strand of the curriculum.

A quick refuel with a delicious morning tea and we were back in our seats to listen to Sue Lawson, author of CBCA Shortlisted title Freedom Ride in conversation with Boori Monty Pryor. As Sherryl Clark said Boori was both "funny and forthright" about sharing Aboriginal and Torres Strait Islander literature with children and youth and Sue Lawson was the perfect facilitator.
Lance Balchin certainly fulfilled the brief of 'throwing technology into the mix' by outlining how children can use technology to tell their own stories through open source images. Using photography of their real world, creative commons images and four basic skills children can take control and make their own versions of a story. It was enlightening for all of us as we thought about how we could use his license to act with our own young people.

Reading Pictures, facilitated by author Claire Saxby, was a thoughtful discussion with illustrators Ann James, Anna Walker and Nicki Greenberg as they described their part in creating the "immersive experience" of story. The illustrator's aim to show something different to the text, in saying something the author hasn't mentioned and allowing every part of the book (including endpapers) a chance to tell part of the story were discussed. The illustrators spoke about how every image invites questions but also allows a particular timing, to pause the storytelling journey. The pictures both pace the work and dance with the text or as Ann James stated "illustrate between the lines and around the corners" of the words. How lucky are we when publishers and visual designers allow these creators enough room to spread their wings to further develop a story?
The sponsor and publisher showcase (see list below) which followed was a wonderful opportunity to 'speed date' with forthcoming titles and renew contacts with suppliers of a rich variety of terrific resources and publications. All kept to time which meant we had a full hour over lunch for extra engagement and questions at the booths, book signings and purchases from the bookshop.

The program for the afternoon seemed not for the faint hearted as 200 people moved between six workshops. However it was a terrific opportunity to participate in hands on activities and delegates made the most of the chance. They were able to play and construct art with Ann James, Anna Walker, Nicki Greenberg and James Foley; create stories with Mark Smith, Shivaun Plozza and Scot Gardner; and build digital stories and film shorts with Deanne Verity from Geelong Regional Library. It certainly seemed time well spent.

Ideas from our Peers was the perfect conclusion to a day of ideas with a lively presentation chaired by Sarah Mayor Cox from La Trobe University with school librarians Marissa Caluzzi from Ivanhoe Girls Grammar Junior School, Karys McEwen from Glen Eira College and Jo Panckridge from the Geelong College Junior School. Wonderful food for thought about the potential for reimagining these activities and research in our own communities.
Then it was off to drinks in the Deakin University Waterfront Campus Library to hear the eloquent and talented Scot Gardner launch two special books - Sue Lawson and Auntie Fay Muir's Nganga, a collection of words and phrases by Aboriginal and Torres Strait Islander people, and Claire Saxby's beautiful picture book Bird to Bird, both by Walker Books. It was such a treat celebrating such wonderful examples of Australian Children's Literature in the ambience of an outstanding Library against a backdrop of stunning animations of Lance Balchin's Mechanica. Special thanks to Sarah Fennelly for her talented 'reimagining' of these works for our benefit.

Dinner that night in the dome of the Geelong Regional Library was an added special event for attendees who listened to authors and illustrators present their own special memories of books which created a personal impact. This launched the Geelong Regional Library Family Fun Day opening up the opportunity for children and their families to engage with the Australian Children's Laureate and many of the other creators through storytelling and workshops as well as a special musical performance of Alison Lester lyrics by the Geelong Youth Choir.

The 'Reimagine the world according to children's books' exhibition of Australian children's books illustration at the Geelong Art Gallery further opened up the possibility of learning through viewing and exploring the work of illustration. This completed the multi-faceted perspective on children's stories that the conference/festival and exhibition wanted to highlight. The weekend of activities was enabled by a partnership between CBCA Vic, Deakin University Faculty of Arts and Education, Geelong Regional Library Corporation and Geelong Art Gallery.

Many thanks to all participants who ensured the weekend was so successful with ideas that will live (reimagined) in the memory!
Conference contributors: Allen and Unwin, Australian Children's Laureate Foundation, Avalon Airport, Bank First, Booked Out Speakers Agency, Books Illustrated, Copyright Agency Reading Australia, National Centre for Australian Children's Literature, Magabala Books, Magpies Magazine, Penguin Random House, The Reading Mountain, Sherryl Clark, Story Box Library, Text Publishing, Walker Books and Zart Art.


Christine Oughtred - CBCA Vic President
Thank-you to our Sponsors